Woven MarketSpace and Kabataan Krafts Book Launch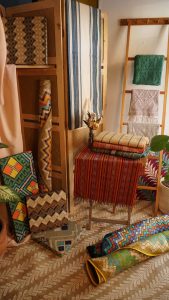 Over the past few months, Woven.ph have been working hard to continue their mission of uplifting local artisans even in these challenging times.
In line with this, they are launching Woven MarketSpace, an online venue where crafts communities in rural areas can display their products and reach a wider market. It is a way to bring local weaves closer to those in search of unique patterns while providing weavers with the income they need in these difficult times.
With the wealth of talent and skill that Filipino artisans possess, one can expect a variety of weaves, from finished home products like placemats, table runners, and frames to raw fabric that can be used for different purposes. Each item is priced fairly in coordination with the makers themselves.
The Kabataan Krafts Workbook will also be launched on the same day. Made for the kids of Filipino artisans, the Tagalog workbook is meant to help the youth hone and practice their creative and artistic skills, even as they undergo learning from home during the current pandemic.
The online launch event can be accessed through their Facebook Page.
Go to Woven.ph Facebook Page
We hope you can join us at the Woven MarketSpace & Kabataan Krafts Book Launch, March 26, 2021 at 4:00 PM.