#DemiLaut and the Seas of Innovation and Empowerment
For various communities across Southeast Asia, the sea remains a source of life and delightful bounty. It has provided for generations of locals. It remains a constant and timeless presence, a subject of ever-enduring memories and compelling myths. This may all change if humanity does not curb its excesses and if we remain careless and selfish about the world's resources. Not only is sustainability a buzzword for the present and future, it is the way forward. 
As a social enterprise, #DemiLaut, has decided to initiate the push for sustainability and empowerment for fishing communities. Last year, with the support of their generous donors, they managed to exceed 200% of their crowdfunding goals with Project Idin. They also greatly appreciate the support provided by the Youth Co:Lab, an initiative co-led by the UNDP and Citi Foundation. The crowdfunding support and business advice given to them, were incredibly helpful. This led them to taking more big steps for their social enterprise.
Project Idin was the start of a community empowerment endeavor which the enterprise aims to work on moving forward. At the center of this endeavor is Mr. Hj Idin. He is a traditional fisher from Kuala Sibuti, Sarawak, a place within Borneo. He started fishing as a hobby when he was a kid, and has since been working hard for more than 30 years to take care of his family through his daily fishing routine. He usually leaves for fishing by 4am, returns home at about 8am before going back to the sea once more at around 4 in the afternoon till 9 in the evening to make ends meet. As the #DemiLaut team connected Hj Idin to online platforms and businesses, they discovered that these organizations shy away from small-scale fisherfolk communities due to the inconsistencies in fish quality. Artisanal or small-scale fishers much like Hj Idin and other fisherfolk in Sibuti, Sarawak earn an average of RM3600 (USD$900) per boat per month, and have to spend up to RM 70 (USD$ 17) per trip on ice to maintain the freshness of their catch. Across an average of 20 working days in a month, these fisherfolk would be spending 37% of their income on ice packs. 
With this state of finances, an average artisanal fisher would invest minimally to none in ice as there is no guarantee of catch on any given fishing day. Consequently, traditional fishermen would have to sell off their fish quickly before it decomposes. If the sale is not made, the catch is thrown away or processed into lower-valued products such as salted fish, which further contributes to waste and overfishing thus further threatening food security.
This was not an isolated incident in Sarawak. It is common all across the South China Sea region. Traditional fishers do not have adequate tools to preserve the freshness of their catch. They work hard but they end up risking contamination and decomposition of fish due to improper stock management.
By empowering fishermen with equipment and sustainable management tools that align with environmental and economic incentives, can we uplift them to work their way out of this vicious cycle of spoiled catch, little to no returns and wasted time? 
That is a possibility. In fact, this is the project's very point of existence. Project Idin will be one of #DemiLaut's initial projects, where they aim to help up to at least 30% of the 130,000 traditional fishermen within Malaysia within the next three (3) years. As a social enterprise, their team believes that by empowering the people of the sea, there would be a positive benefit for all. Support would enable the fisherfolk to govern, manage, and conserve the marine environment.
Solutions for the issue at hand include the Pemukah Noh, a net-hauling device. This was to be built and installed on Hj Idin's boat. In addition, the enterprise also worked on an app concept that would allow them to verify and sell the catches online and tap into a bigger market and expand reach outside of their rural areas. 
At this level, the #DemiLaut team committed to support Hj Idin in the process of transferring real-time information. This would allow the team to market his products online on a daily basis. The team would also aid in terms of logistics. 
#DemiLaut aims to increase his sales return by 20% to 30% within 6 months. The team would also be advising him on by-catches management & juvenile catches management. Hj Idin will be the new standard, the role model. 
Moving forward, the team planned to expand and add to their efforts. They are now embarking on a project called the #DemiLaut Cold Chain to help Hj Idin and the rest of the fishing community in Sibuti access more diverse income sources and to provide inexpensive and reusable ice packs to his fellow colleagues. The goals of this project will focus on:  
Empowering the Sibuti community through Hj  by renting economical cold packs 

Maintaining the freshness of fishes caught by the community

Minimizing impacts of fish wastage from improper fish stock management. 

Developing Hj into a role model
#DemiLaut knows that these ambitions cannot be fulfilled alone. They are asking for the public's support. By empowering a community that continues to cultivate a sustainable fishing culture, the public's support will keep fishermen on the path to a brighter future; and by preventing fish wastage, we can all contribute to marine food security in our part of the world. 
By crowdfunding a 200L freezer & 100 ice blocks for Hj Idin, the #DemiLaut team will be able to minimize fish wastage for a community of 30 fisherfolk – a significant stepping stone to address overfishing.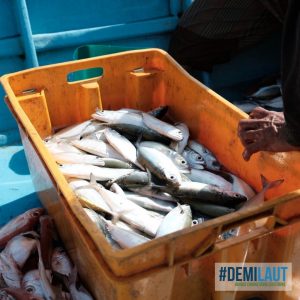 With #DemiLaut's guidance & support, Hj Idin will be renting out long-lasting ice packs to 30 fellow fisher colleagues at RM 5 (USD$ 1.25) for a set of six  (6) ice packs per day. The cost is fourteen times less than current prices for ice-filled plastic bags which cost up to RM 70 (USD$ 17.25).
Guiding communities to retain the freshness of fish through a standardized, user-friendly method for proper temperature control and stock management, results in reducing the risk of bacterial contamination & decomposition of marine stocks. 
Let us return to an earlier question: Can empowering a rural fisherfolk community make a great difference? Questions like these excite #DemiLaut, but can only be answered and made a reality by the public. The enterprise believes that practical and economical solutions can incite change. Holistically, this effort is a prequel to a very meaningful and sustainable impact for fisherfolk and the marine ecosystem. Change starts somewhere and similar to the vast and beautiful sea, anything is made possible with commitment and ambition. 
---
To learn more about DemiLaut's successful crowdfunding campaign, Project Idin 2.0 please visit http://launchgood.com/projectidin2021 and to know more about our work and to be involved with us please visit http://briqueengineeringsolutions.com/.