Into My Heart: A Crowdsourced Book About Love
Over the last year, there have been trends that have made it into the lives of so many people who were experiencing a similar shift in their everyday lives. These trends ranged from making a special type of coffee while getting an arm workout (if you didn't have the right equipment but still wanted that Instagram-worthy shot), playing video games with your friends online (and doing your best to keep your identity a secret), learning the viral Tiktok dances (some that would never see the light of day), baking your own bread (until realizing how hard and time-consuming it actually is), and exploring the hobbies and passions that you previously didn't have time for when life was "normal".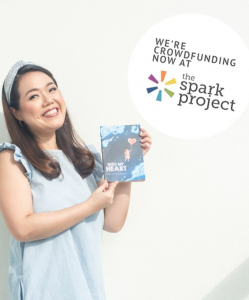 Isis Huang, a poet at heart with a full-time job, previously didn't have time to reflect and write as much as she wanted to. She started writing poems in high school after a heartbreak that she experienced and during quarantine, her friend encouraged her to go back to her passion for writing – but this time, to take it a step further and share it online. This was the start of her journey to create "Into My Heart" – a collection of poems and artworks surrounding and all about love.
Each poem will take you through all the phases of love that everyone has experienced – and each piece is also visualized by an artwork created through collaborations with Isis's friends. She wanted her friends to interpret her writing through their own artistic expression, and through this, 31 poems and 31 artworks were born.
There are 25 days left to back this project and receive rewards that include a soft and hard copy of Into My Heart, as well as a selection of Auro Chocolates that you can enjoy as a treat for either you or your loved one while reading the book – because love deserves to be given (and received!) all year round.
Visit https://www.thesparkproject.com/project/poetry-book-project to support this project and help a passion project born from quarantine come to life!