Globe and Animo Labs Launch Country's Biggest 5G Hackathon
For innovation to take flight and new technologies to flourish, collaboration across industries is important. Globe has been at the forefront of network improvements and innovations to further uplift the connectivity experience of Filipinos nationwide. As the world moves at full throttle in digital transformation, Globe and DLSU's Animo Labs launched the country's biggest 5G Hackathon competition for students and professionals hungry to dive into innovation and digital learning.
The competition, running from March through July of this year, will focus on the use of 5G technologies in various sectors of the Philippine economy, namely:
5G for Society – Education, Health Care, and Livelihood
To improve patient health monitoring and provide remote consultations, address mixed learning gaps and opportunities, and enhance ways of working for Filipinos' current livelihood such as farming, fisheries, and the like.
5G for Industries – Retail, Manufacturing, Logistics, E-Commerce
To increase efficiency of different sectors through wide scale artificial intelligence (AI) automation and internet of things (IoT), and improve customer experience and satisfaction through personalized real-time customer insights.
5G for Smart Cities – Disaster risk management, Sustainability, Asset and Resource Management, Transportation
To transmit and process real-time information to solve traffic, urban planning, disaster risk, and other issues.
The competition will be divided into two parts, the Pitch and the Hackathon, with a total of P500,000 in cash prizes and endless learning opportunities from SMEs and industry leaders through mentoring and workshops. On top of that, the Hackathon winners will get a unique chance to be part of 917Ventures' Velocity, a venture builders program and work directly with the Globe 5G Acceleration Lab.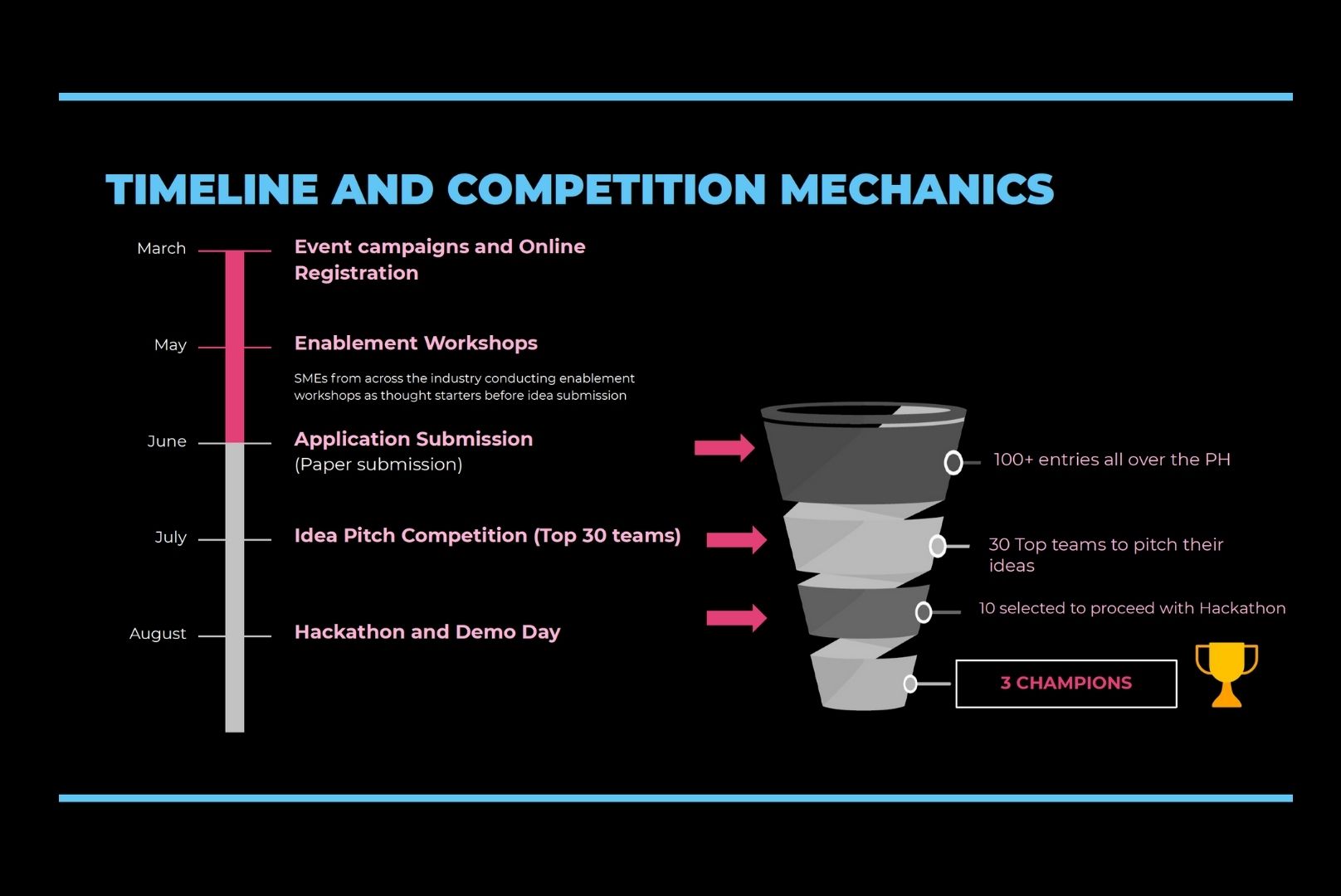 Students from all over the Philippines are invited to register NOW and pitch their ideas through the official 5G Hackathon website.
The competition is open to students, professionals, start-ups, and OFWs (80% of the team's members should be Filipino) Enablement workshops will begin on April 23, 2021.
Enablement workshops will equip participants with the right knowledge and resources to help them with their ideas. The learning series will be brought to schools nationwide through Globe Prepaid's Virtual Hangouts GoCAMPUS to immerse participants in interactive pocket summits and workshops. GoCAMPUS is looking forward to reinventing school and learning experiences for students and empowering them to eventually bring to life real-world applications of 5G technology in society, industries, and smart cities.
Once the competition is down to the Top 30 finalists, there will be separate mentoring exercises by tech leaders in the country.
Not only that, participants will further learn from more industry experts from Google, Amazon, Intel, Huawei, and more of Globe's technology partners.
"We commit to enabling the youth to carve out their own digital futures, and transform various industries in the Philippines into digital innovation hubs. Together, we will explore new technologies like 5G with resources that can further their skills and enrich their case studies. Globe is their willing partner in this learning opportunity," said KD Dizon, Globe's Head of Consumer Mobile Business.
Globe strongly supports the United Nations Sustainable Development Goals, particularly UN SDG No. 9 which highlights the roles of infrastructure and innovation as crucial drivers of economic growth and development. Globe is committed to upholding the 10 United Nations Global Compact principles and 10 UN SDGs.
For more information, visit https://globe5ghackathon.com/